---
The 72nd CMEF Chongqing Medical Equipment Exhibition ended successfully.
---
2014 China International Medical Devices (Autumn) Expo was successfully held in Chongqing International Expo Center on October 23rd-26th, 2014.
Beijing Weili as a high-tech medical device manufacturer specializing in andrology and infectious diseases, also participated in this exhibition. During the exhibition, the product managers had detailed communication with some customers who showed strong willingness to cooperate. While fully demonstrating the advantages of products, they recommended different models to customers according to different needs of different customers. Then, the product managers recommended and introduced the competitive products such as WLZZ-9999 andrologic disease diagnosis and treatment system, WLJY-9000 sperm analysis system, WLXGX-8888 blood purification-artificial liver support system and WLFHY-500 ascites reinfusion system to customers.
In short, through this exhibition, Weili made more people in the industry know about Weili and its related products. At the same time, through this exhibition, Weili showed its elegant demeanor and opened up a new situation of medical science and technology.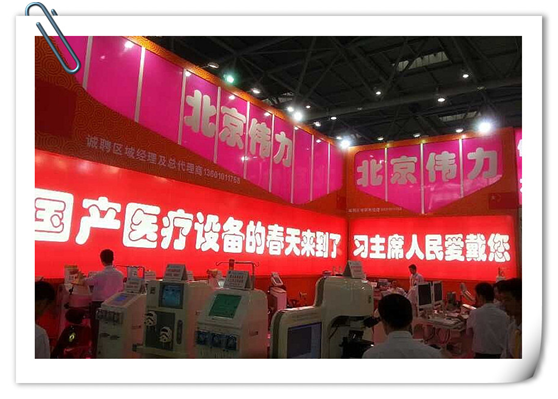 (The picture above shows Weili's main venue at CMEF. Our equipment has attracted many people in the industry to stop and inquire. Many people in the industry took a group photo at our main venue and expressed their encouragement and support for domestic medical equipment)
---
Copyright:Beijing Weili New Century Science & Technology Development Co. Ltd.