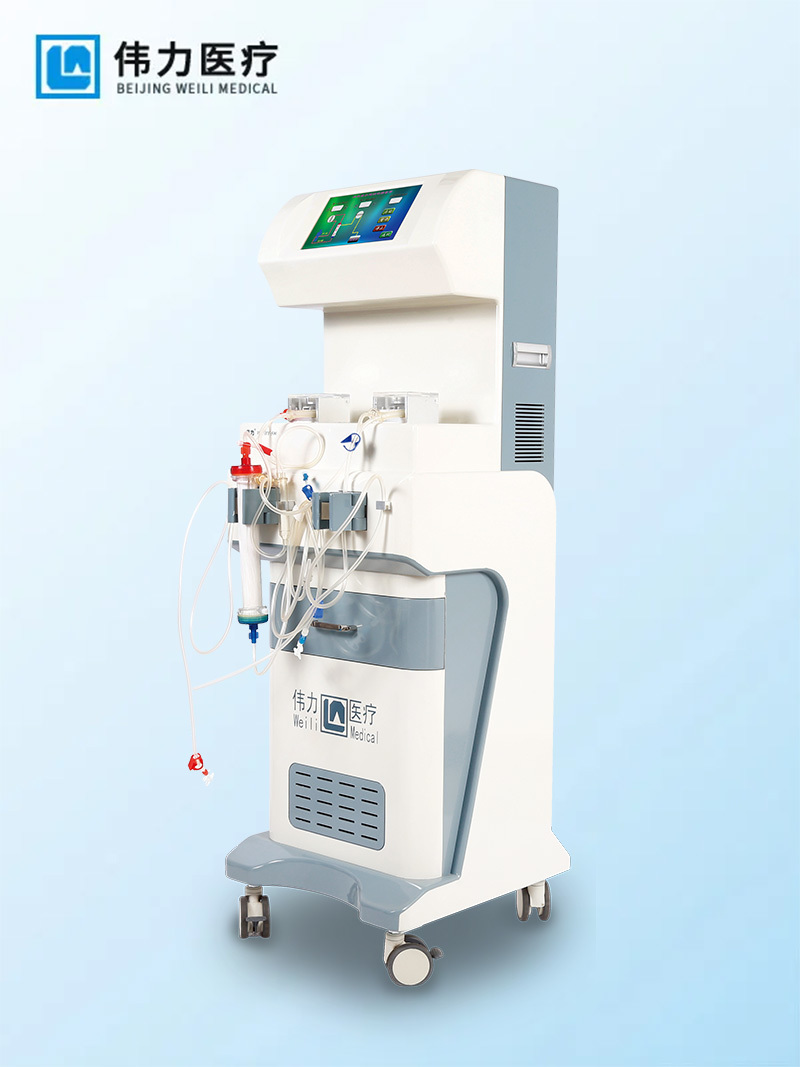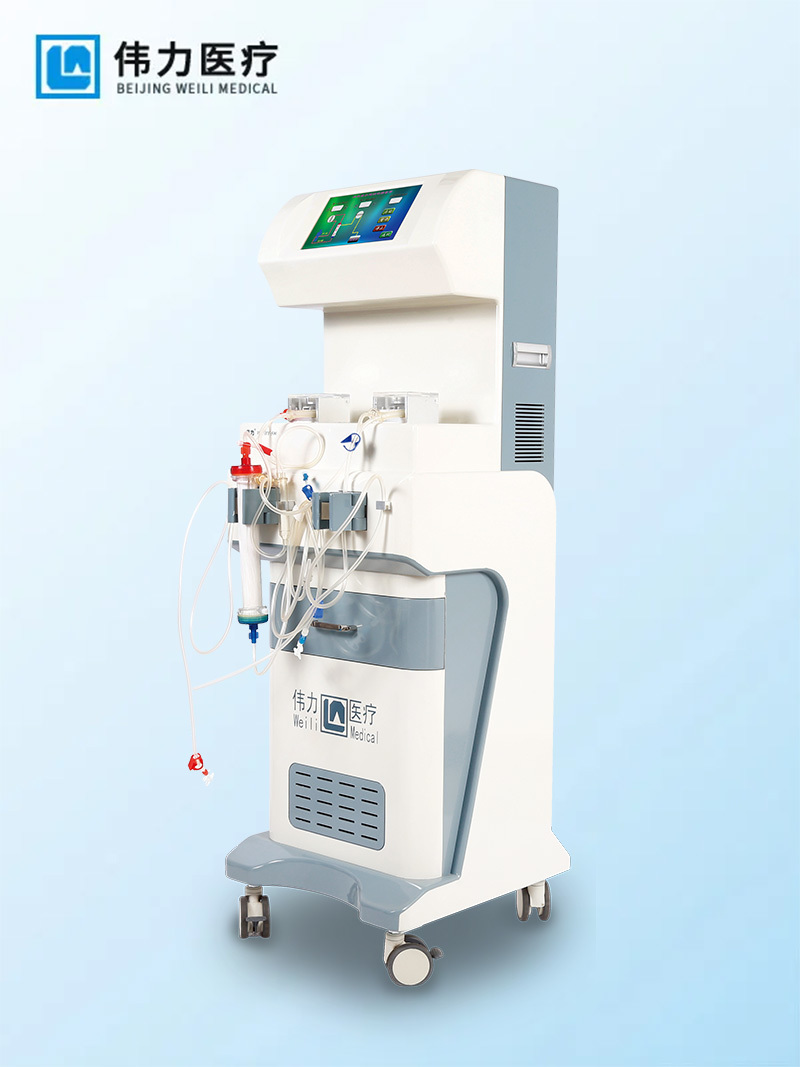 Ascites ultrafiltration concentration & reinfusion system
---

Related Products
Ascites ultrafiltration concentration & reinfusion system
---
Ascites is one of the most common complications of patients with cirrhosis of liver, and the formation mechanism is complex. Once formed, it is easy to cause abdominal cavity infection. In order to alleviate the pain of the patients caused by the huge increase in intra-abdominal pressure,it is often necessary to puncture and release water through multiple abdominal paracentesis. However, due to the large loss of protein after the ascites is released, the plasma colloid osmotic pressure is decreased, and the ascites is increased, which forms a vicious circle aggravates condition.
WLFHY-500 Ascites ultrafiltration concentration & reinfusion system produced by Beijing Weili New Century Science&Technology Development Co. Ltd. can filter out excess ascites, part of the electrolyte, endotoxin, etc., and will be useful to the human body Albumin, macrophages, complement and other substances according to clinical needs, back into the abdominal cavity or vein. Its indications are wide and adverse reactions are small, which adds a new means to the clinical treatment of refractory ascites.
Therapeutic principle
Ascites to reduce
back to abdominal cavity
decreased endogenous creatinine
abdominal pressure reducing
relief of Dyspnea
Abdominal distension relief
increased appetite
improvement the mental symptoms
diaphragm down
inhibit RASS activation
increased discharge of sodium ,increased urine volume factory
increased glomerular filtration rate
effective blood volume increases throughout the body
increased albumin concentration in abdominal ascites
the phagocytosis of peritoneal cells was enhanced
increased lymphatic absorption capacity
dynamic exchange of ascites and visceral blood is increased
Increased serum albumin concentration
Treatment options (flow chart)
According to the specific situation of ascites patients, the following treatment options can be selected
Ascites is concentrated and then reinjected into abdominal cavity.
With abdominal cavity reinfusion therapy, the concentration of albumin in the abdominal ascitic fluid increases and re-enters the blood vessels through three absorption pathways
the phagocytosis of peritoneal cells was enhanced
increased lymphatic absorption capacity
dynamic exchange of ascites and visceral blood is increased
Eventually, the osmolality of plasma colloidal increases, and at the same time effectively circulates blood volume, which can correct the insufficient amount of renal blood perfusion and increase the amount of urine, which can effectively prevent and treat hepatorenal syndrome.
features
Recycle human albumin, macrophages, complement C3, improve plasma colloidal osmolality, and prevent abdominal infection;
Reduce the content of urea nitrogen and creatinine, improve kidney function, increase urine output, and prevent the occurrence of hepatorenal syndrome;
Filter out a large amount of ascites, filter out the electrolytes such as K+, Na+, Cl- and other electrolytes in equal amounts, and some endotoxins, and quickly correct the water and sodium retention.
Suitable for all kinds of stubborn ascites (including infectious ascites), safe and reliable
For cancerous ascites, infectious ascites and endogenous endotoxin ascites, due to the presence of a large number of cancer cells, bacteria and endotoxins in the ascitic fluid, if such ascites is directly transfused in the abdominal cavity, it is easy to lead to the spread of cancer cells, sepsis, diffuse intravascular coagulation and liver and kidney function damage. However, if the macromolecular type components such as bacteria, tumor cells, blood cells and endotoxin in the ascites are separated by the component separator first, and then the ascites containing only useful components such as proteins is concentrated, the ascites can be safely transfused back to the human body.
suitable for carcinomatous ascites, hemorrhagic ascites and severe infectious ascites caused by peritoneal metastasis
remove bacteria, cancer cells and blood cells in ascites to ensure the safety of transfusion to human body
The double pump design can accurately control the amount of ascent ascites, the amount of ascites and the amount of waste liquid。
Pump cover photoelectric control design
Computer programs control the entire treatment process, reducing the burden on medical workers
---
Copyright:Beijing Weili New Century Science & Technology Development Co. Ltd.